About a month ago I decided to try a new linux distribution. I was using Ubuntu and was even waiting for Ubuntu 12.10. I chose Arch Linux for testing, and Installed it on my netbook. I really liked the installation process! Then I chose Xfce as Desktop Environment. After a few days I decided to move from Ubuntu to Arch Linux.
When I read an article about a window manager, I was reminded of Tiling Window Managers so I decided to check window managers before moving. After some reading and comparing, I chose xmonad as my window manager.
So I installed Arch Linux with xmonad. I spent a few days on installing softwares and configuring. You can see the result in the below picture.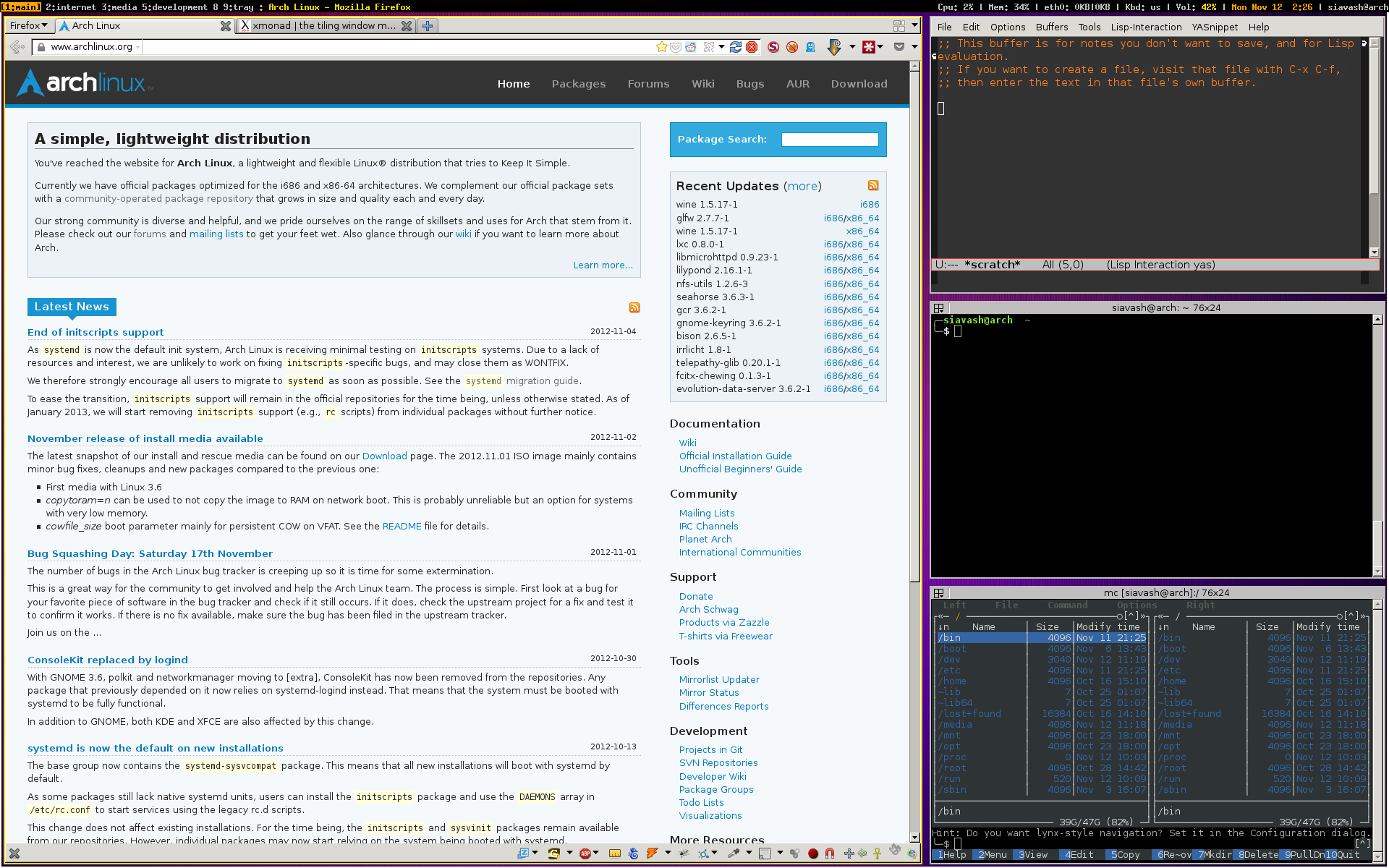 There is still a lot to learn about Arch Linux and xmonad, but I know enough to do the things I need to do.
If you want to try Arch Linux, the Beginners' Guide is the best place to start.
This guide is a good start on configuring xmonad. Other useful links:
Xmonad/Config archive – HaskellWiki
Some of the Applications I use:(updated)
Firefox
Thunderbird
GNU Emacs (text editor and more!)
Guake (terminal)
zsh (shell)
tmux (terminal multiplexer)
xmobar (status bar)
dmenu (application launcher)
dunst (notification daemon)
Krusader, Dolphin (file manager)
ncmpcpp (music player)
mpv (media player)
feh, ristretto (image viewer)
scrot (screenshot)
zathura (PDF viewer)
Liferea (feed reader)
syncthing, btsync, dropbox (sync, backup)